Kim So-yeon surprised with a birthday party on set
Kim So-yeon turned 30 last week, and since she's hard at work filming a drama at the moment (SBS's Dr. Champ), she celebrated the event on set.
Her birthday was on November 2; the following day, the drama's crew surprised her with a party and a cake while she was at the Hallym University hospital in Anyang to shoot scenes. She's got a particularly good relationship with the staff, with whom she also worked on her previous drama, SBS's Prosecutor Princess; in fact, she says she chose this role not only because she liked the character, but because of her faith in the crew.
The other stars, of course, were also on hand for the festivities, which include Uhm Tae-woong, who plays her boss in the drama, and Jung Kyeo-woon, who plays her athlete love interest.
Kim said, "For actors, II think spending a birthday on a filming set is a happy occasion. I'm truly thankful for our Dr. Champ staff, who are always working hard even in difficult conditions."
Dr. Champ, which just aired its 14th episode, is heading toward its close and will be wrapping up next week with its 16th episode. While it's a drama I hadn't had particular expectations for, it's proven to be pretty entertaining, not to mention visually beautiful. I'm always happy when a drama exceeds my expectations.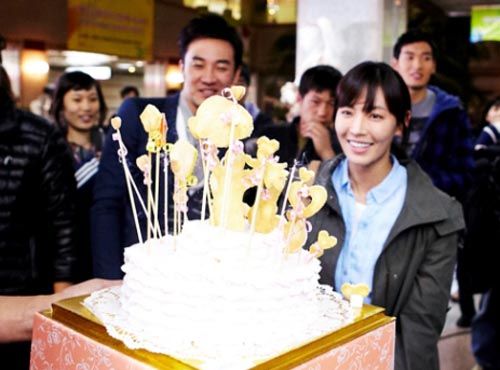 Via My Daily
News Source - http://dramabeans.com